SPACES FOR CHILDREN provides many design and training options. *Online options also available.
To discuss your project; Contact
---
Design Services
Classroom Design and Furniture Space Planning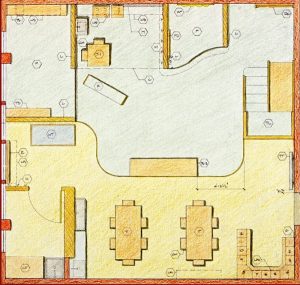 If you are setting up a new classroom or remodeling an existing room, optimize the function of the environment with a detail classroom layout and furniture plan. Send us plans of your existing space and work with Louis Torelli by phone and through email.
*See Before/After Photos and Sample Plans
Plan Review
If your program is remodeling or building a new facility we can assist your program and local architect with guidance and planning.
Feasibility Studies
If your program is considering to remodel an existing facility or new construction it may be best to begin with a feasibility study to determine the most cost-effective strategy for proceeding. *See "8 Steps in the Design Process"
Facility Design
Working in conjunction with your own architect or Spaces for Children associated architects, we can provide full design services for your remodel or new facility. *See Spaces for Children: Landscapes for Learning
---
Training
Design Workshops
Full and half-day training seminars on creating high quality indoor and outdoor environments for infants, toddlers and preschoolers, including specialized workshops for Early Head Start, Head Start and Family Child Care.
Classroom/Facility Assessment
Visit program and work with staff to provide low-cost improvements to your indoor and outdoor learning environment. Recommendations for creating a short and long-term master plan.
---
Early Head Start and Head Start
Over 35 years experience working with Head Start programs. Louis has been a Head Start teacher, CDA advisor and rep.
Since founding Spaces for Children he has designed hundreds of EHS and HS classrooms, remodeled facilities and trained tens of thousands of Head Start staff. The environments are designed in compliance with Performance Standards, Best Practices and beyond. Learn more about Early Head Start and Head Start projects